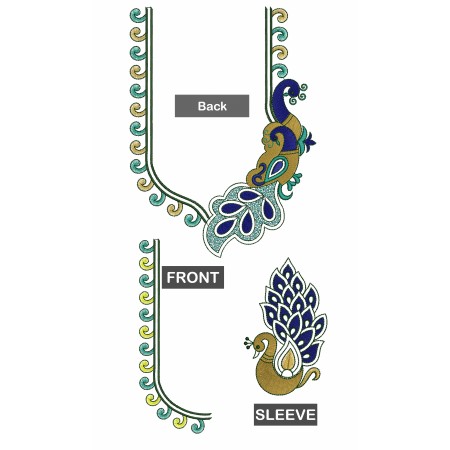 Description
Are you looking for Beautiful Peacock Blouse Embroidery Designs? Check out the most trending Peacock Embroidery Designs For Blouse from our website's page. This peacock design on blouse comes with sleeves and it's available to download in multiple formats including DST, JPG-Image, VP3, PES, EXP, XXX, HUS & PNG file formats. This embroidery peacock blouse designs have 2 peacocks on the front side and one peacock on the backside of the blouse making it more elegant. use this peacock thread work designs on blouses and celebrate your every occasion.
We have launched several peacock design blouses for embroidery machines and people just love them. As you can see this blouse back has a peacock neck design as well as on the front side of the blouse also contains peacock work designs on side near the sleeve. So that this peacock design for blouse sleeve looks more creative & Amazing. You can use your embroidery machine to digitize peacock work on blouse and sleeves embroidery design.
Want to see more peacock images for embroidery? Our team is ready to show images of your concept. Contact us on WhatsApp/Telegram +91787853797

Most of our customers ask for embroidery peacock blouse neck designs with a back as well as a sleeve & if you are one of them, these peacock computer embroidery designs are just for you. You too can order similar peacock designs on blouses for your next embroidery project. you can create peacocks blouses and simple peacock designs for blouse sleeves with this blouse peacock designs.
And if you are looking for something different from peacock blouse back neck designs for your clients then you can create your own embroidery designs, you can send your peacock design for blouse requirements on Whatsapp or Email.
Want to customize more peacock design images into EMB files? Our designers are ready to create peacock patch work blouse designs for you. Contact us on WhatsApp/Telegram at +917878537979 you can browse our website for more simple peacock designs for embroidery, blouse back neck peacock designs, blouse embroidery peacock designs, embroidery back neck designs, embroidery designs peacock for neck, one side embroidery design for blouse, peacock embroidery blouse designs, peacock work blouse designs, simple peacock blouse designs, and simple peacock embroidery designs, peacock patch for blouse, peacock patch work for blouse.
peacock embroidery design free download available on our website. you don't have to pay any extra amount for this peacock design saree blouse. this peacock design in blouse gives a traditional look to your blouse. you can use these peacock designs for blouses, and peacock blouse designs for silk saree. you can use this simple peacock design for blouse sleeve.
Peacock Embroidery Designs For Blouse 21296
:

Instant Download

Model Number:

21296
Blouse
Blouse Stitches / Points
6942
Blouse Height
276 mm | 27.6 cm | 10.8 Inches
Blouse Width
102 mm | 10.2 cm | 4 Inches
Blouse Neck Depth
248 mm | 24.8 cm | 9.7 Inches
Back Available
Yes
Back Stitches / Points
31150
Back Height
324 mm | 32.4 cm | 12.7 Inches
Back Width
241 mm | 24.1 cm | 9.4 Inches
Back Neck Depth
272 mm | 27.2 cm | 10.7 Inches
Sleeve Stitches / Points
12536
Sleeve Height
154 mm | 15.4 cm | 6 Inches
Sleeve Width
93 mm | 9.3 cm | 3.6 Inches