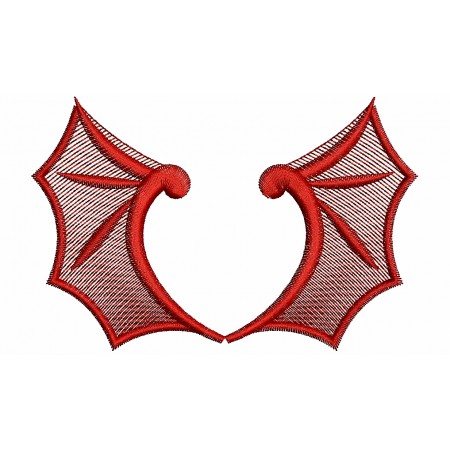 To get this design in JEF, PES, HUS or any other format,
Contact us & Share Your Machine Details
Description
This simple and cute embroidery of Bat wings will add Helloween charm to any fabric! Stitch it on the back of a t-shirt, hoodie, jacket, or stitch it on children's outfits.
Checkout the Bat Wings Embroidery Machine from EmbDesignTube.You can check the latest collection on the site. Download the Free Embroidery Designs and check the premium embroidery designs. Contact us via Whatsapp or E-mail.
This Design In Also Available Below Different Sizes
Design Size - Stitch Point: 3986 Height - 66 mm Width - 100 mm
Design Size - Stitch Point: 5890 Height - 154 mm Width - 121 mm
Available in multi formats such as HUS, JEF, DST, and JPG. you can use this design on pillows, caps, pockets, wallets, backpacks, t-shirts, sweatshirts, phone cases, and baby clothes.
If you're looking for a top-quality embroidery design, ensure that you pick one of the "Premium" design tags. In general, high-quality designs will be created by more than 15 years of skilled designers. so don't worry about thread-breaking issues in high-end designs.
Bat Wings Embroidery Machine 25631
:

Instant Download

Model Number:

25631
Tags:
Wings Embroidery
,
Creative-Idea
,
Angel
,
Wings
,
Angel Wings
,
Fly
,
Eagle Wings
,
Gothic Style
,
Wings Embroidery
,
Gothic
,
Halloween
,
Bat
,
Bat Wings
,
Bats