24 Dec
If you are using any other software to work with embroidery designs, Wilcom Truesizer e3 Pro is the best embroidery software for you. If you don't require powerful software like EmbroideryStudio or DecoStudio, but you still want to play with your favorite embroidery designs, we would recommend you to go for TrueSizer Pro. Which is the perfect solution for you. TrueSizer Pro has more interesting features than FREE wilcom truesizer software, which allows you to create and save your designs in multiple colorways, view designs on garments. You can also view your designs in hoops as well as print design approval sheets to get approved by your client showing a realistic view of a design on a product, for easy customer approvals.TrueSizer Pro will help you to improve your customer service and sales processes!
Wilcom TrueSizer E3.0 is having an advanced level of features rather than Free Wilcom Embroidery Software that is truesizer Wilcom. Here is the full internal preview of Truesizer Pro Embroidery Digitizing Software. You can also use it as Free Embroidery File Converter, which can be able to convert any embroidery designs to any other format.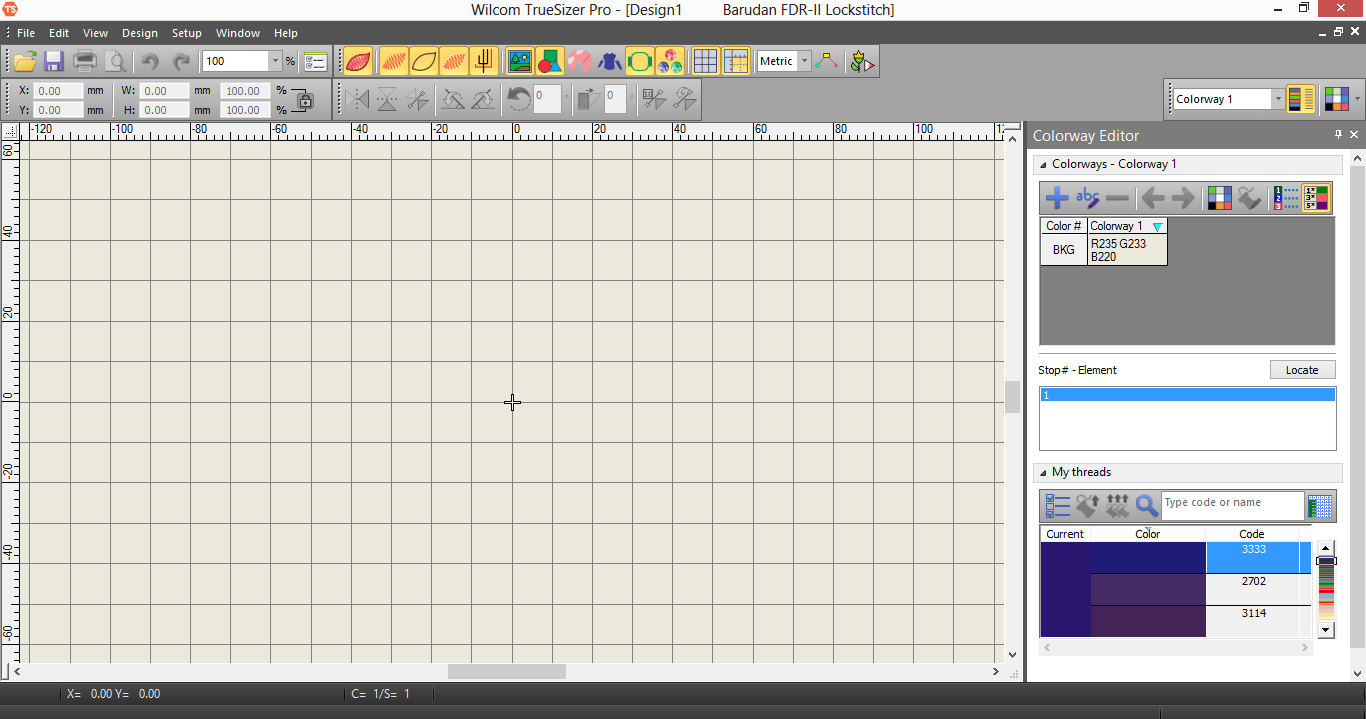 You can also view the hoops option in the menu and view designs as per your machine's hoop size. This option you can not see in Truesizer Free Embroidery Software.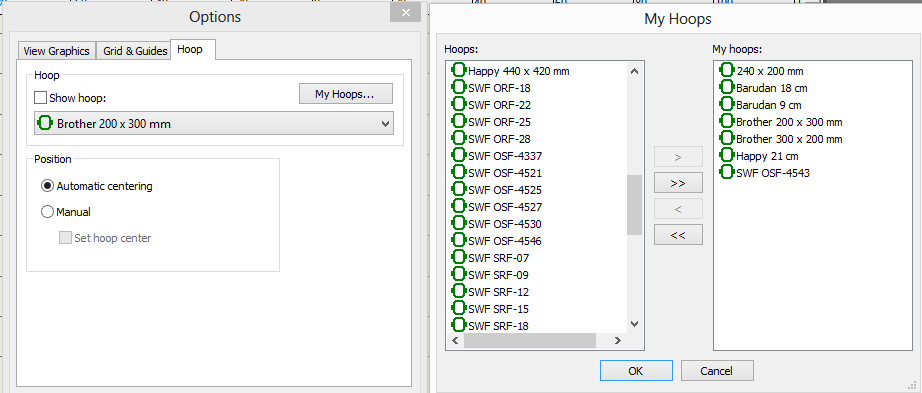 Below are few more interesting features of the Wilcom Truesizer Pro version that you can't have in FREE true sizer software.
Open multiple designs simultaneously. You can open as many designs as you want on the same screen
Multiple colorways and thread matching, You can also change and match colors in your .EMB, .ART and .JAN designs based on colorways.
Product visualizer - You can visualize your product in multiple background images to get a realistic preview of the design.
Print Design approval sheet - You can print the approval sheet of design for your client showing location on the garment for easy handling and processing of your orders.
You can save your embroidery design and export it to the most popular embroidery formats. Suppose you have an embroidery design in PES format and you want it in JEF format or HUS format, you can easily do that task using Wilcom Truesizer Pro. For converting any embroidery designs into other formats, you just need to go to file > Save As and this window will be opened. From this window, click on your desired format in which you want to convert your design and by clicking on the save button, your design will be saved as your desired format. It's so simple and easy.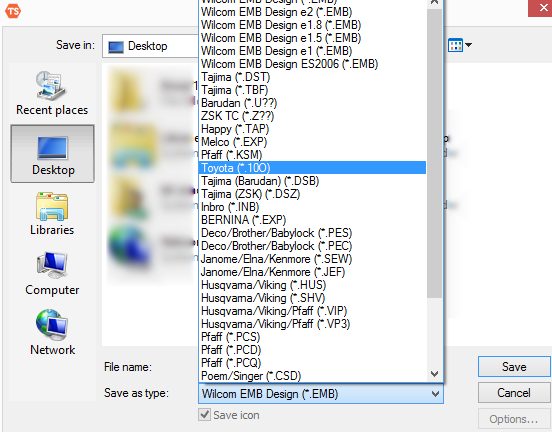 TrueSizer Pro Full Features:
Open & precisely re-size original digitized designs in Wilcom .EMB format
Preserve original stitching effects & stitch densities, including advanced fancy fills, etc.
Resize, rotate & mirror designs with a single click.
Read & convert many popular commercial and home expanded/condensed file formats.
Supports almost all embroidery file formats.
View designs in TrueView™ and normal stitch view
Email EMB files directly using truesizer pro.
Print production worksheets with key design information and thread color sequence
Make sales presentations and sales printouts for professionals.
Save designs in Wilcom .EMB format as well as in other popular embroidery formats like HUS, JEF, DST, PES and many more.
Convert designs into various commercial and home stitch file formats for production
Output to embroidery disk
Open multiple designs simultaneously
Re-color. EMB designs based on colorways
Change and re-color .EMB, .ART, .JAN designs
Create and save multiple colorways in .EMB designs
Match threads to the current colorway
Match threads to all color slots in the current colorway
Re-color designs saved in non-EMB formats - eg .DST
Create customer approval sheets showing design and location on garments
View designs on garments
Display designs in hoops
Original Wilcom Software Price for Truesizer Pro is $99 USD but due to the Christmas 2014 holidays, you will get it at just $49 USD using the below link.

Please note that this huge discount is valid for Christmas occasion, even after the Christmas event goes and you want a discount on Truesizer pro, you can use below coupon code for Wilcom software to avail of the discount.