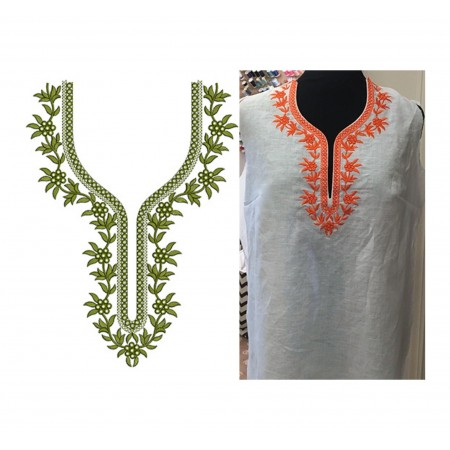 Contact us to get Free JEF/PES another format. EMB is excluded
Description
Still, searching for the Chamsa Algerian Traditional Dress Neck Embroidery Design? Our expert embroidery designer team from India has created this specific machine embroidery design specially for you, which includes beautiful figures and shapes in this latest Neck embroidery pattern. You can browse our website for more beautiful Neck machine embroidery designs.
(Optionally) In this design, we give you split parts,
The split parts information is below listed
17888+1
Dimension - 236mm X 140mm

17888+2
Dimension - 236mm X 140mm
17888+3
Dimension - 172mm X 137mm
The Chamsa Algerian traditional dress has a unique embroidery design that is woven onto the fabric. This style of dress is most popular in the city of Oran. This type of gown has two layers, one with a transparent base layer and another with an embroidered, colorful top layer. The upper part of the dress is elastic and the embellishments are made of crystal stones or beads. This type of garment is a classic example of fine tailoring and is very unique.
The Chamsa is a full-length robe worn by both men and women. The cloth is made of cotton or wool, with intricate embroidery. The color of the djellaba is often symbolic of marital status, so if you see a woman in a bright red dress, you'll likely recognize her. The men's djellaba is usually more plain, and the blusa is shorter and more fitted.

This dress is decorated with intricate embroidery. The embroidered fabric is usually accompanied by a matching headband. A gold headband matches the dress perfectly. A beautiful pearl necklace completes the ensemble. Adding a gold belt completes the look. These pieces are a great investment for any fashionista. These pieces are a perfect way to adorn your wardrobe. Just be sure to follow the instructions carefully and you will have the perfect piece of attire.

Chamsa Algerian Traditional Dress Embroidery Design
Neck
Neck Stitches / Points
34439
Neck Height
397 mm | 39.7 cm | 15.6 Inches
Neck Width
293 mm | 29.3 cm | 11.5 Inches
Neck Depth
166 mm | 16.6 cm | 6.5 Inches
Neck Inner Width
159 mm | 15.9 cm | 6.2 Inches