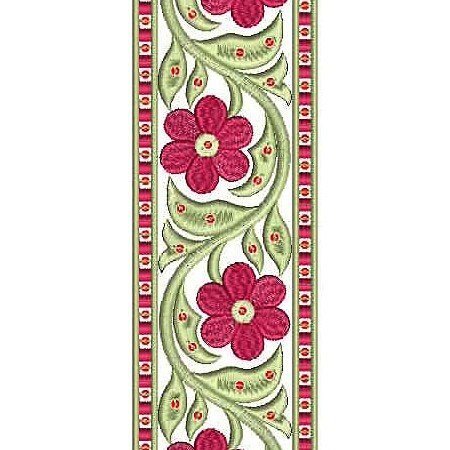 Contact us to get Free JEF/PES another format. EMB is excluded
Description
The Beautiful diamond shape saree border embroidery design can be used on multiple fabrics and machines. The motif embroidery designs are in Flat+Sequins with Premium quality. Simple saree border drawings For Embroidery, you can use it on any automatic embroidery machine.
You can download simple saree embroidery designs for your clients. You can use these embroidery saree border designs for anything and gift them to your friends on their special day. You can get a free quotation here if you want to create your own border design for a saree.
Check out these beautiful simple saree border designs for the Lace that can be the perfect combination of your imagination as well as reality when you digitize that designer sarees border embroidery on your clothes. Our expert embroidery designer team has worked on this saree border design to give it a more personal look, especially for your next embroidery project. You can browse our website for more beautiful sari border designs for embroidery and floral saree border designs.
Are you looking for saree border designs for embroidery? We have launched the latest embroidery designs for embroidery border designs for sarees, easy saree border design, saree border patterns, border embroidery saree, border simple saree design, design for saree border, design of saree border only for you that are available in EMB, DST file format and you can download this saree border design patterns for embroidery and embroidery designs for saree borders online from our website. Want to customize more saree border design images into EMB files? Our designers are ready to do a simple saree border design for you. Contact us on WhatsApp/Telegram +917878537979
want to see more saree border design pictures and simple saree border design drawings? Our team is ready to make a saree border design pattern for you. You can browse our website for more beautiful plain saree with border designs and saree ka borders. You can create simple border design sarees with these simple border simple saree designs.
Simple Saree Border Designs For Embroidery 174
Lace
Lace Stitches / Points
24698
Lace Height
55mm