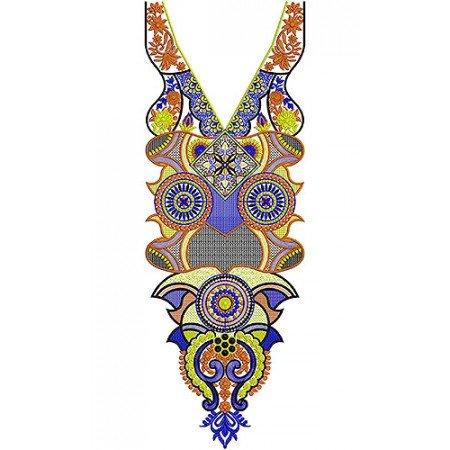 Contact us to get Free JEF/PES another format. EMB is excluded
Description
Check out these long neck embroidery designs, Embroidery Neckline Designs for your computerized embroidery machine. Many people demand from us that they require long neck embroidery designs for abaya, dress, caftan, kaftan, kimono, etc. You can create your own embroidery designs with your choice able pattern for your own collection, share the details of your requirements on our WhatsApp and Email.

Check out this beautiful embroidery pattern for the Neck that can be the perfect combination of your imagination as well as reality when you digitize that pattern on your clothes. Our expert embroidery designer team has worked on this Long Neck to give it a more personal look, especially for your next embroidery project.
You can use this Embroidery Neck design to do embroidery on Kurtis, tunics, Pakistani suits, and dresses. this is an instantly downloadable embroidery design.
This design has a neck with 4 thread colors. We have also given the EMB file format of this design, So you can easily edit this design according to your outfit size and embroidery needs, You can add new embroidery elements, remove some parts of this design, increase/decrease its stitch density, thread color changes, increase/decrease thread colors without any unwanted jumps, stitches and minor errors which affect embroidery machine.
Available File Formats are DST, JPG, PES, PNG (If you need another format that is not listed here please contact us before purchasing the design). This design is supported by all major brand embroidery machines. You also get a thread color chart which will help you to set the needle steps in the machine.
If you need any type of editing in this design we can do it for free or with nominal charges, feel free to contact us or WhatsApp/Telegram +917878537979
Embroidery Neckline Designs 4020
:

Instant Download

Model Number:

4020
Neck
Neck Stitches / Points
189385
Neck Height
823 mm | 82.3 cm | 32.4 Inches
Neck Width
330 mm | 33 cm | 12.9 Inches
Neck Depth
199 mm | 19.9 cm | 7.8 Inches
Customer ID
305 mm | 30.5 cm | 12 Inches