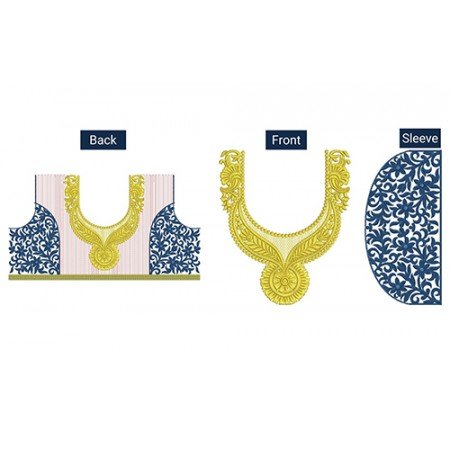 Description
Check out the Latest Machine Embroidery Blouse Designs for your upcoming embroidery project. These blouse embroidery designs are created by limited 3 thread color and it gives you an amazing look. You can also check out machine embroidery designs for sarees from our website. Embroidery clients are always looking for a different taste of the latest computer embroidery blouse designs online and at Embdesigntube.com, you will get exactly what you need.
The golden color neck embroidery looks like you had to wear a gorgeous gold necklace so you didn't need any extra jewelry. You can search for many blouse embroidery designs on our website's page. we also created customized computer designs for blouses similar to this concept and publish them on our site.
Are you looking for the latest computer embroidery designs for blouses? We have launched the latest computer design blouses for computer blouse designs machine embroidery, blouse neck embroidery designs, embroidery saree only for you that are available in EMB, DST file format and you can download this Design for embroidery online from our website. we have many computer embroidery designs latest on our website. You can browse our website for more beautiful machine blouse design and new computer embroidery designs.
Latest Machine Embroidery Blouse Designs
:

Instant Download

Model Number:

21JN05
Blouse
Blouse Stitches / Points
41634
Blouse Height
317 mm | 31.7 cm | 12.4 Inches
Blouse Width
269 mm | 26.9 cm | 10.5 Inches
Blouse Neck Depth
172 mm | 17.2 cm | 6.7 Inches
Blouse Inner Width
160 mm | 16 cm | 6.2 Inches
Back Height
349 mm | 34.9 cm | 13.7 Inches
Back Width
636 mm | 63.6 cm | 25 Inches
Sleeve Stitches / Points
37728
Sleeve Height
148 mm | 14.8 cm | 5.8 Inches
Sleeve Width
301 mm | 30.1 cm | 11.8 Inches
Creative Idea
Stitches / Points
108657