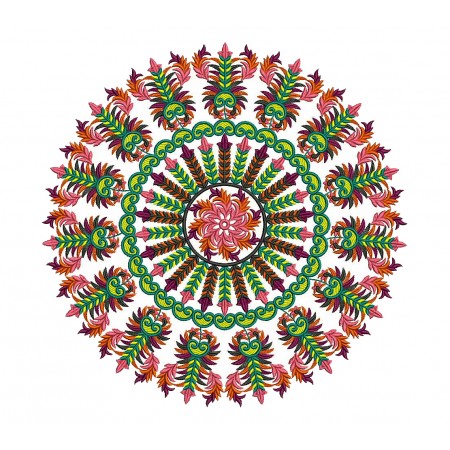 Contact us to get Free JEF/PES another format. EMB is excluded
Description
Check out this beautiful Mandala Applique Embroidery Design that can perfectly combine your imagination and reality when you digitize that pattern on your clothes. Our expert embroidery designer team has worked on this Patch Applique to give it a more personal look, especially for your next embroidery project.
Introducing our stunning Mandala Applique Embroidery Design, a mesmerizing combination of intricate artwork and dimensional texture. This design showcases the timeless beauty of mandalas, known for their spiritual symbolism and captivating patterns.
Our Mandala Applique Embroidery Design features a central circular motif adorned with elaborate geometric shapes and ornate details. The design radiates a sense of balance, harmony, and tranquility, making it a perfect addition to any creative project.

This design adds depth and dimension to your embroidery projects using the applique technique. The mandala is created by layering fabric patches on the base fabric, resulting in a three-dimensional effect that captivates the eye. The combination of different fabrics and textures further enhances the design's visual appeal.

Whether you embellish clothing items, accessories, or home decor, our Mandala Applique Embroidery Design will make a striking statement. It can be applied to various fabrics, such as cotton, denim, silk, or even leather, allowing you to unleash your creativity and personalize your items with intricate beauty.

The design is available in multiple file formats, including EMB, DST, XXX, JPG, JEF, VP3, HUS, PES, and EXP, ensuring compatibility with various embroidery machines. With the precise digitization of the design, you can expect excellent stitch quality and coverage, resulting in a professional and polished finish.

Embrace the enchanting allure of mandalas and add a touch of artistic elegance to your embroidery projects with our Mandala Applique Embroidery Design. Let the intricacy of the design captivate your imagination and infuse your creations with a sense of serenity and beauty.

Mandala Applique Embroidery Design
Applique
Applique Stitches / Points
171962
Applique Height
379 mm | 37.9 cm | 14.9 Inches
Applique Width
379 mm | 37.9 cm | 14.9 Inches