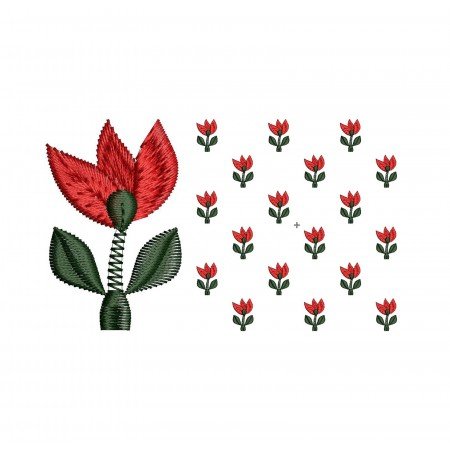 Contact us to get Free JEF/PES another format. EMB is excluded
Description
One of the most popular types of embroidery is small applique embroidery work in designer saree. Embroidery is an excellent way to decorate an embroidered saree without spending a lot of time or money. This type of stitching is also a popular choice for creating vibrant, elaborate saree borders. Learn how to do this type of work to get the look and feel you're after. try once this beautiful appliqued border for your saree.

You can use this cute little applique embroidery design for machine embroidery to do embroidery work on any fabric type to add a stylish touch to your designer saree. You can use it on formal occasions, formal parties, and informal bashes. This method is ideal for bold style statements or setting trends. The best thing about appliques is that they don't need to be cared for too much. Because they are stitched or fused to the fabric, they are virtually impervious to wear and tear.

If you're looking for a beautiful and unique piece of clothing, this type of small applique for saree design is the way to go. The technique is based on the French style of sewing and is often seen in many Indian saree styles. This particular style is particularly popular in Rajasthan and Orissa, as it is one of the oldest types of saree embroidery. It uses thick threads and beads to create designs such as vines and flowers. You can also use this applique embroidery design as an Allover by repeating up to 100mm.

Small Applique For Saree Design
:

Instant Download

Model Number:

21OC43
Applique
Applique Stitches / Points
859
Applique Height
44 mm | 4.4 cm | 1.7 Inches
Applique Width
28 mm | 2.8 cm | 1.1 Inches
Customer ID
4375