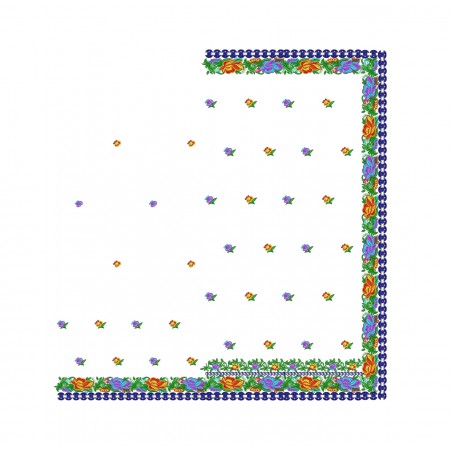 Contact us to get Free JEF/PES another format. EMB is excluded
Description
Stitches/Points
C:72793
P:49666
S:20762
Design type
Flat Embroidery
Thread colors
6
Height(mm)
1104
Head Interval / Embroidery
250
Handwork Space
Yes
Design Format
EMB, DST, ART
Tested/Verified by Embdesigntube
Yes
Check out these beautiful hand embroidery saree designs for your embroidery machine. surti saree is the ethnic wear that loves to wear by all our the world. Saree embroidery designs you can wear on every occasion or festival. hand embroidery saree design looks fabulous on every woman. This colorful saree embroidery design is created in 6 different colors and its have 83802 stitches. Check the latest saree embroidery designs on our website's page.

This design can be convertible in another format like flat and sequins, Fully Sequins, Flat and Cording, only Cording as per your Requirement Using our Order New Designs on services Page. Need help? contact email support.

Check out this hand embroidery on saree for the Pallu Saree that can be the perfect combination of your imagination as well as reality when you digitize that pattern on your clothes. Our expert embroidery designer team has worked on this Saree C Pallu to give it a more personal look, especially for your next embroidery project. You can browse our website for more beautiful embroidery saree design.

Surti Hand Embroidery Saree Design
:

Instant Download

Model Number:

4890
Saree
Corner Stitches / Points
72793
Corner Height
1104
Corner Width
80
Corner Colors
6
Pallu Stitches / Points
49666
Pallu Height
1103
Pallu Head Interval
271
Pallu Thread Color
6
Body Stitches / Points
20762
Body Height
868
Body Head Interval
266
Body Thread Color
6
Saree Design Quality
Premium