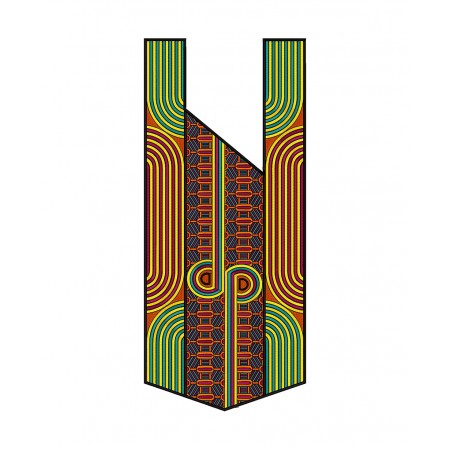 -29 %
Contact us to get Free JEF/PES another format. EMB is excluded
Description
Make a bold and stylish statement with our Male Agbada Embroidery Design. Meticulously crafted and tailored for men, this machine embroidery design exudes confidence, cultural richness, and impeccable style. Elevate your wardrobe with this exquisite piece of art that celebrates the heritage of Agbada fashion.
Our Male Agbada Embroidery Design showcases intricate patterns and motifs that reflect the craftsmanship and traditions of African culture. Each stitch is meticulously placed, creating a captivating design that exudes elegance and sophistication. With this embroidery design, you can embrace your roots and make a powerful fashion statement.

Experience the essence of Agbada fashion as you don our Male Agbada Embroidery Design. The attention to detail and vibrant color combinations ensure that you stand out on any occasion. Whether you're attending a wedding, a cultural event, or a special celebration, this design will make you the epitome of style and grace.

Still searching for Male Agbada Embroidery Design? Our expert embroidery designer team from India has created this specific machine embroidery design specially for you, which includes beautiful figures and shapes in this Trendy Embroidery Neck Set. You can browse our website for more beautiful Neck machine embroidery designs.
Moreover, If you prefer a design with a back, look no further than the Trending Agbada Embroidery Pattern.

Our modern Agbada embroidery designs are available in multiple file formats to cater to your preferences. Whether you prefer the flexibility of DST, HUS, or the convenience of JPG and PNG, we have you covered. Choose the format that suits you best and embark on a journey of style and creativity with our exquisite Agbada designs.
Own a piece of African heritage and be a trendsetter with our Male Agbada Embroidery Design. Celebrate Agbada fashion's cultural richness and elegance, and experience the confidence and charisma it brings to your style.

You can contact us via WhatsApp for any improvement in this design, increase or decrease in size, add or remove the figure, or any other question; send us the screenshot of this design and link, and we will help you.

Male Agbada Embroidery Design
Mens Neck
Men's Neck Stitches / Points
297318
Mens Neck Height
706 mm | 70.6 cm | 27.7 Inches
Mens Neck Width
307 mm | 30.7 cm | 12 Inches
Tags:
Men Neck
,
Agbada
,
Agbada Attire
,
Agbada Design
,
Agbada Embroidery
,
Agabada Embroidery Design
,
Agbada Men
,
Babariga
,
Senegalese kaftan
,
Grand boubou
,
Buba